You can control DiCE SMART with hand gestures,
via voice, and the app. Manage all your home devices and sensors in no time.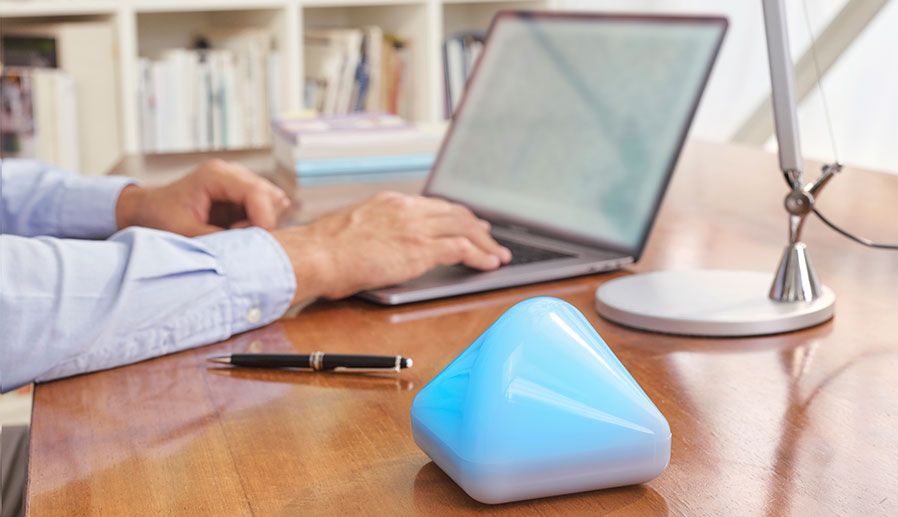 DiCE SMART is the first smart home device that supports a new human machine interface allowing communication through hand gestures and colors.
What makes our product unique is the ability to transform complex data into simple and intuitive informations thanks to the language of colors.
Innovation in design and technology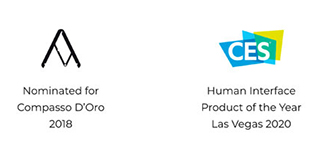 DiCE SMART is the first smart home device entirely designed, conceived, and produced in Italy that combines peculiar design and high technological content.
DiCE SMART was first nominated in 2018 for the Compasso d'Oro for its innovative and distinctive design.
While DiCEworld was awarded, among the ten best Human Interface companies, at CES 2020 for its multi-sensing technology, offering four possibilities to access information and functions: through colors, gestures, app and voice control.
FUNCTIONS
DiCE SMART enhances your well-being inside your home or office and allows you to manage several environmental monitoring devices.
The hub makes use of a universal and easy way to communicate to the end-user resorting to variations of colors. Each of them range within a preset color scale for every parameter and according to the numerical value collected by the sensors.
DiCE SMART can show in real-time different KPIs, from indoor air quality to household energy consumption. In addition, it can control smart lighting devices and security sensors to alert you in case of water leakage or fire.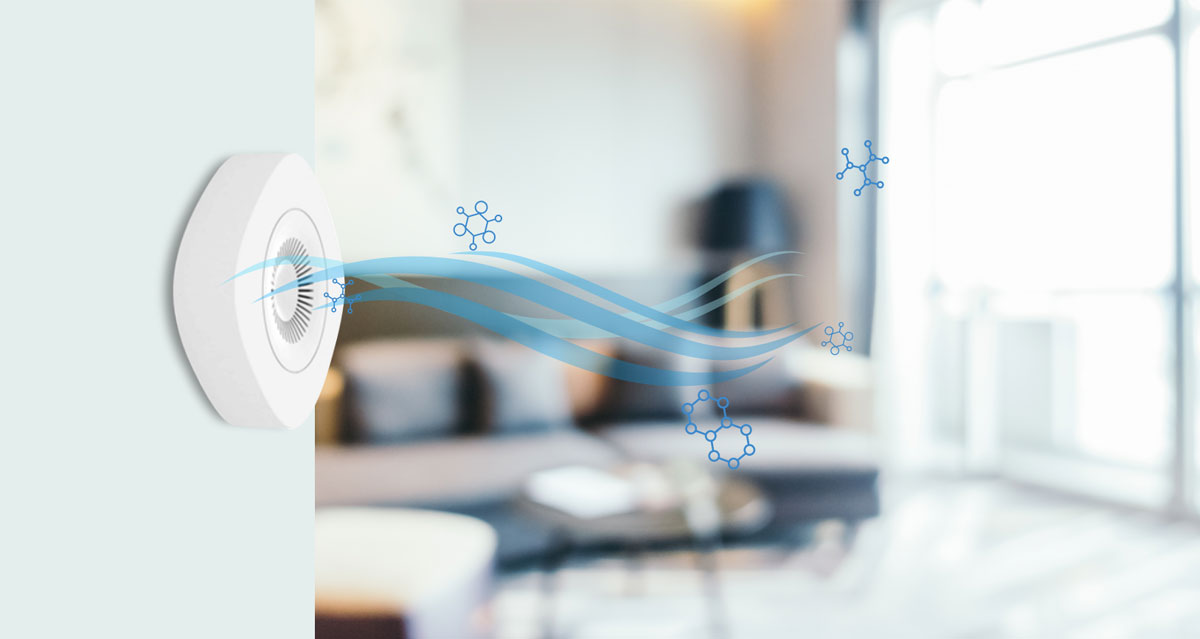 With DiCE SMART you can monitor the quality of the air in your home.
By combining DiCE SMART with the AIR sensor, you can check if the air is clean or too damp, when you need to ventilate your home, and to keep mold and VOCs out of your home.
For example, mold and VOCs are responsible not only for damage to your personal belongings but also for health problems such as asthma, allergies, and headache.
Temperature
DiCE SMART shows you the temperature in your home both on the hub (through colors) and on the DiCEhome app.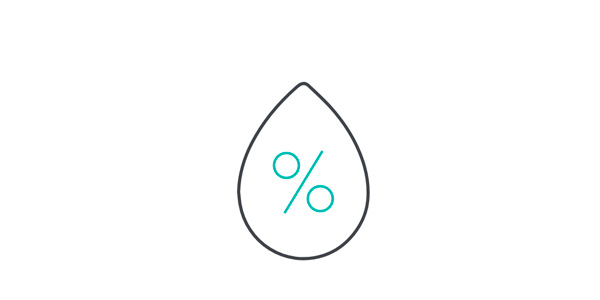 Humidity
Having the right level of humidity is essential for your health. That's why DiCE SMART constantly detects it and converts it into an easily understandable percentage.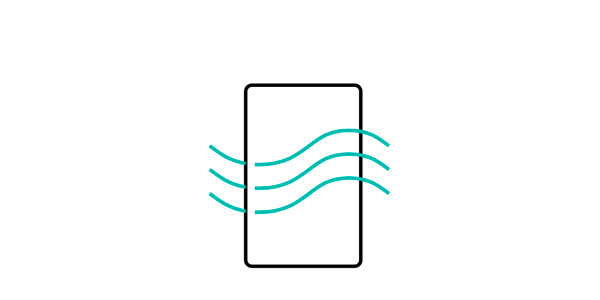 VOCs
Additionally, the hub detects the level of VOCs (Volatile Organic Compounds) in the air, which are organic chemicals that at room temperature can become gas with varying levels of toxicity, from mild to high. As the level rise, DiCE SMART informs you in real time.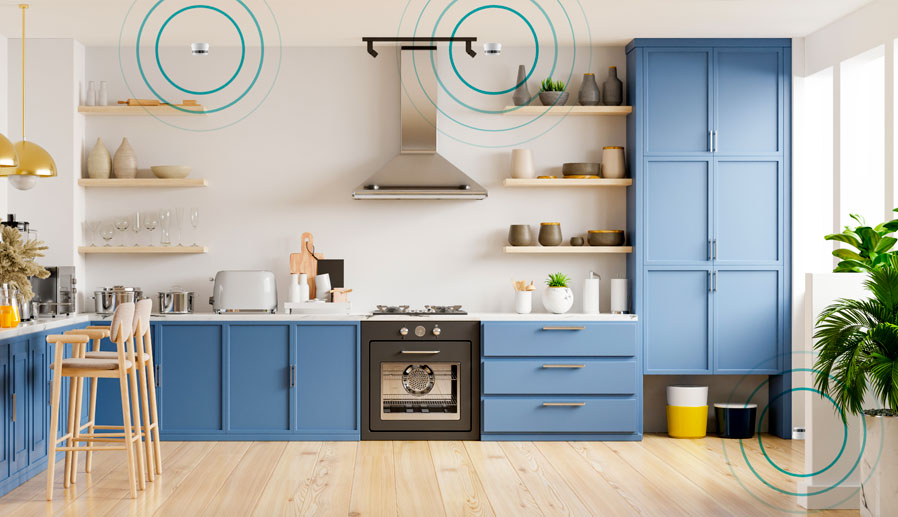 With DiCE SMART you can also detect other parameters, such as smoke, gas, and water. Just pair the sensor you want with the hub to instantly increase the security level of your home. In the unfortune event that a domestic incident happens, DiCE SMART alerts you via its visual and audible alarm routine, and remotely with a push notification on the DiCEhome app.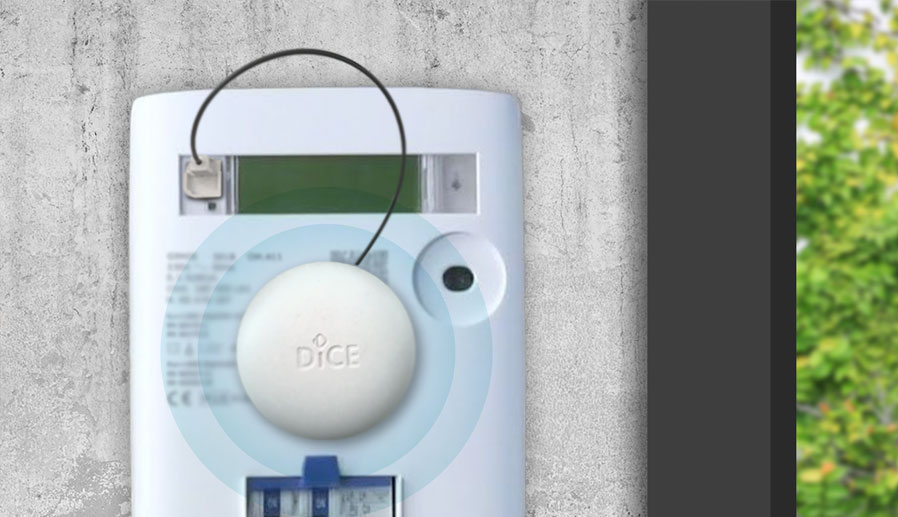 With DiCE SMART you can detect, control and manage the electricity consumption of your home in real-time and in a simple way.
To do this, DiCE SMART can be paired with D•ENERGY, a sensor that reads the consumption of your energy meter and transmits the data to DICE SMART. Those informations are then shown as a easy to read color scale on the hub and through detailed metrics in the DiCEhome app.
The monitoring of electricity consumption can benefit the end-user and the environment in several ways, like:
increasing awareness on your electricity bill
reducing pollution (the production of energy generates 80% of the carbon dioxide in the atmosphere)
limiting the depletion of fossil fuels
improving environmental awareness to fight climate change.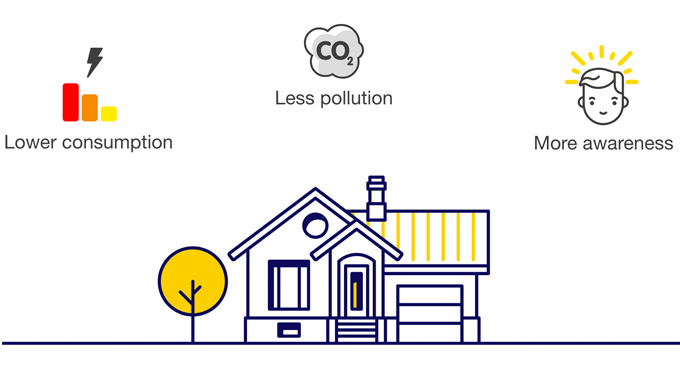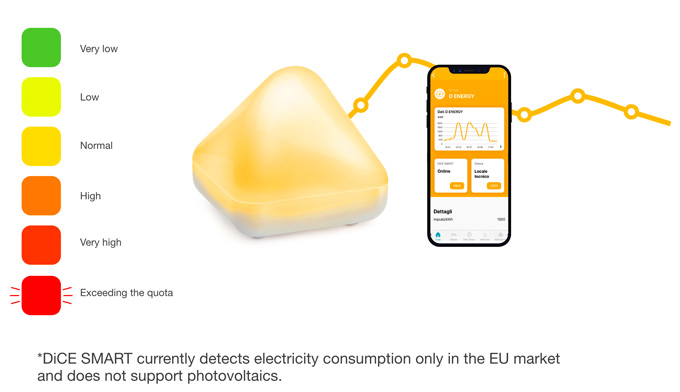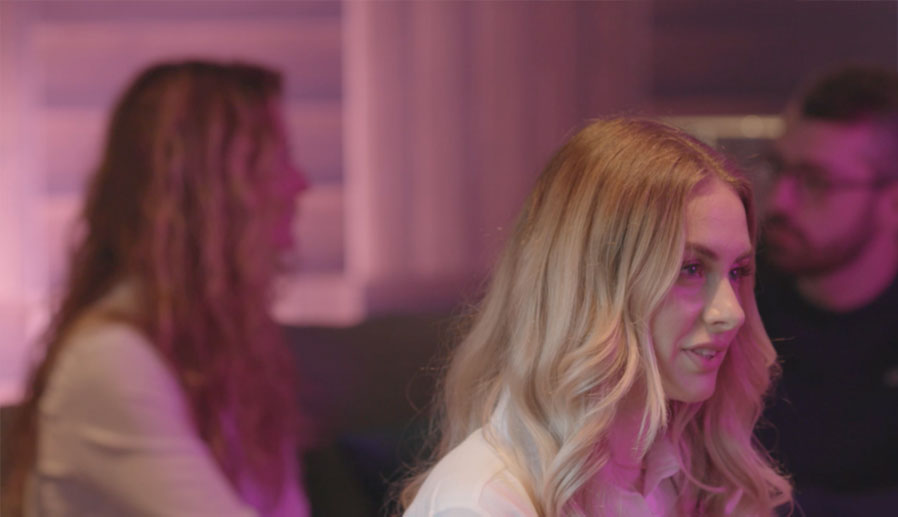 "Atmosfera" is the function that allows you to set color and intensity on DiCE SMART via hand gesture, with the possibility to transmit them to compatible ZigBee smart bulbs. The connected bulbs immediately change color according to the one selected on the hub.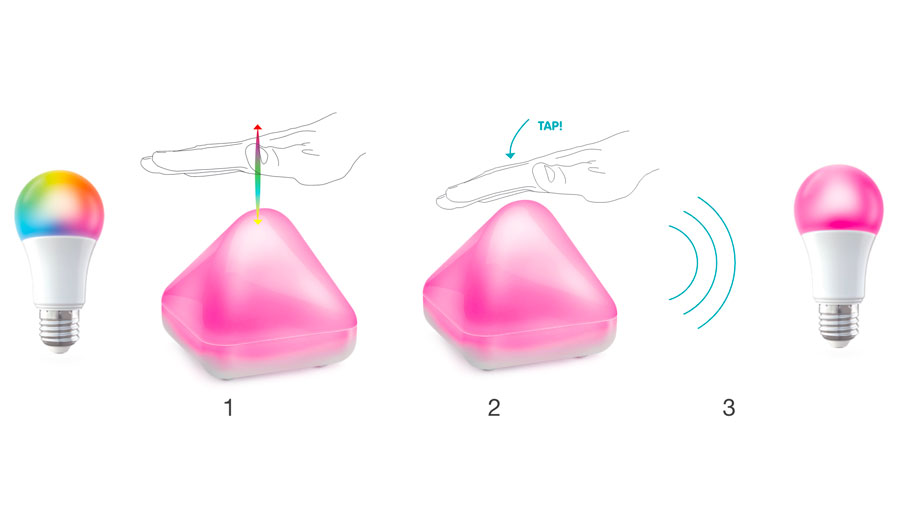 1. Choose the color you want for your smart bulbs on DiCE SMART
2. Tap once on the top of DiCE SMART to transmit the command to all bulbs
3. All connected bulbs change to the selected color
How it works

As a hub, DiCE SMART acts as a control center capable of receiving your instructions and transmitting them to smart devices within the house.
DiCE SMART works with a wide array of smart devices like security sensors, bulbs, and smart plugs. In fact, it interoperates with several types of devices thanks to three different communication protocols: ZigBee, Wi-Fi, and 868 MHz.
You can transmit your instructions in three ways: directly to the hub (via gesture), by voice to Alexa, and via the app. All connected devices perform the actions or provide the required information instantly.
The structure

DiCE SMART is provided with a peculiar structure, made up o 3 levels:
Interoperability
DiCE SMART interoperates with several types of devices and sensors allowing you to easily transform your home into a safer, more efficient, and comfortable smart home.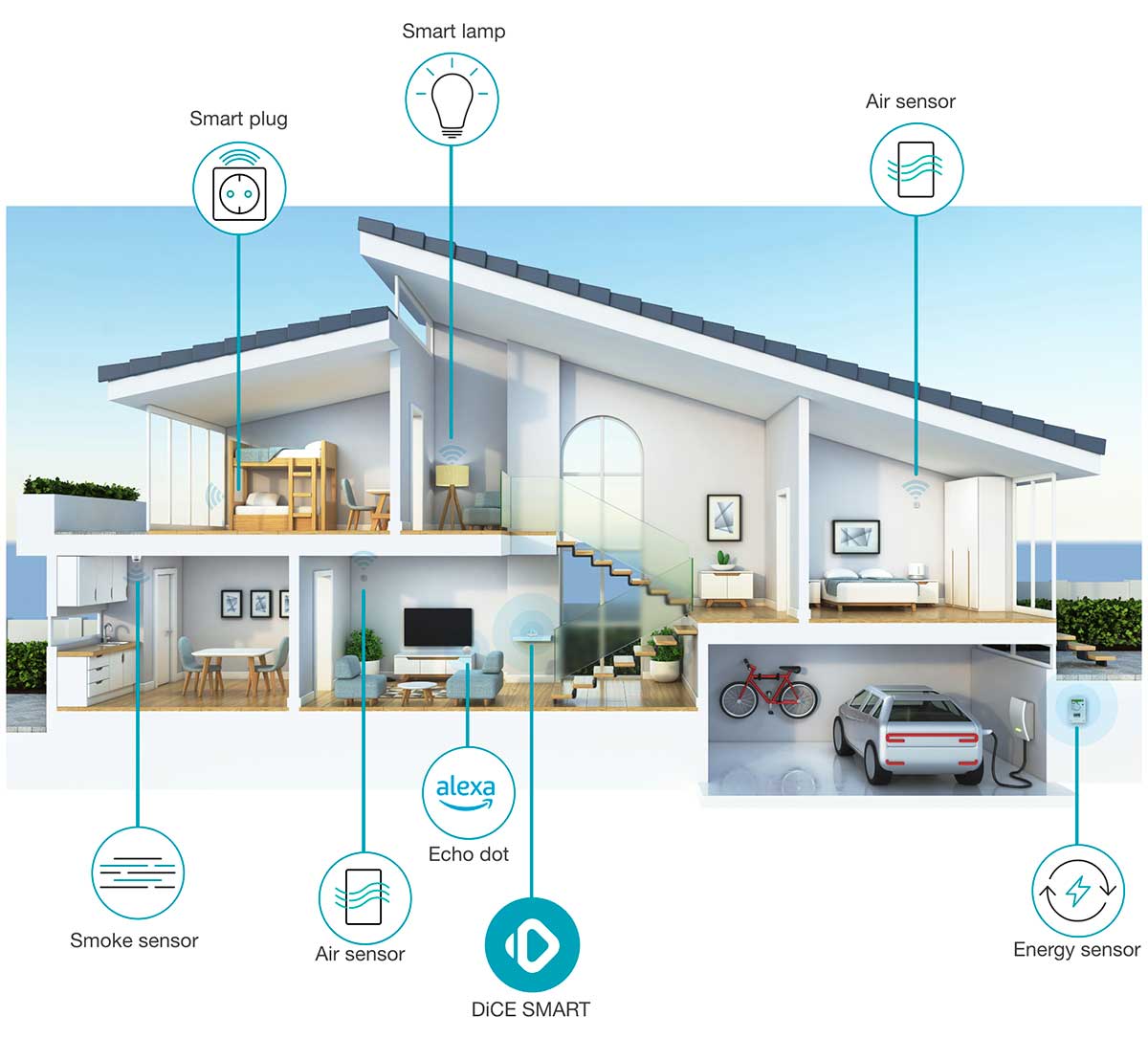 Gestures and colors

The interaction with DiCE SMART comes with gestures and colors.
With simple hand gestures, you choose the functions you want to activate, while DiCE SMART colors itself to answer you or to communicate the values detected by energy, air, smoke, or water sensors.
Gesture Onda
With "Onda" gesture you can activate three functions: "Atmosfera" (light it up with customized colors); "Aurora" (reproduce the colors of the rainbow), and browse through different KPIs.
Gesture Volo
With "Volo" gesture you can select the color of the light in the "Atmosfera" function.
Gesture Orbita
With "Orbita" gesture you can set the intensity of the light in the "Atmosfera" function.
Gesture Posa
With "Posa" gesture, you can activate two different scenarios. With a single tap on the device you can transmit color and intensity of your choice to your smart bulbs. Instead, a double tap on the device works as a shortcut to your preferred smart home automation.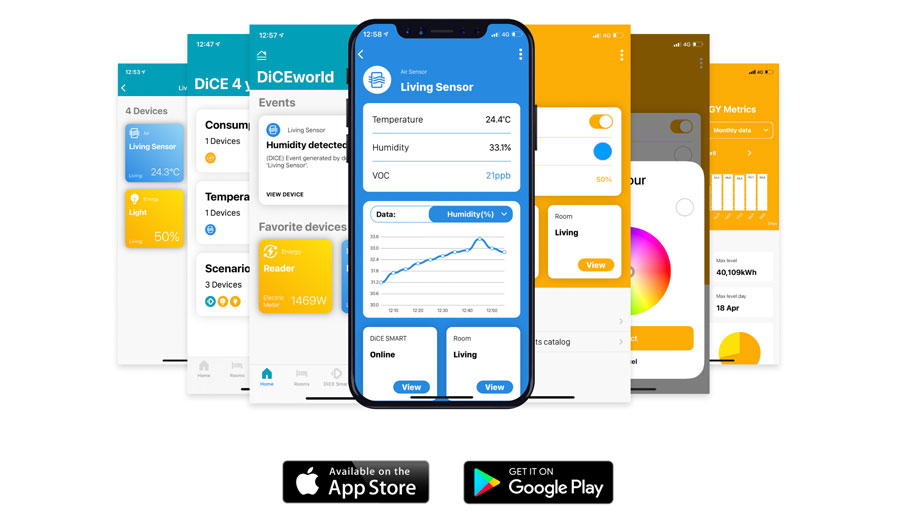 Our app has been designed to allow you to set up and manage all the functions of DiCE SMART and the devices connected to it with extreme ease.
The screens show you the data collected and allow you to set your thresholds, parameters, and settings.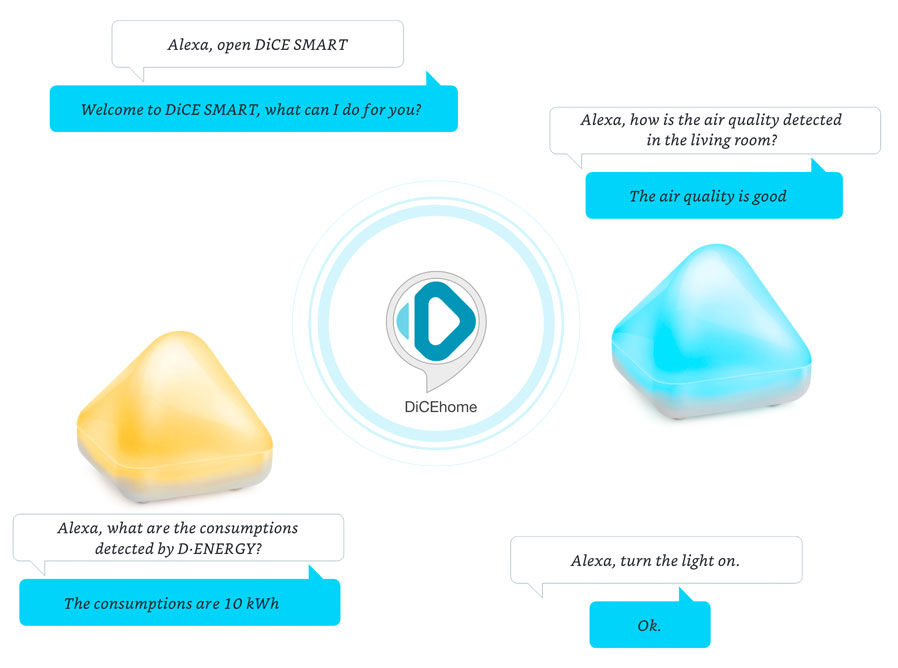 DiCE SMART is compatible with Alexa. This means that you can give it voice commands so that the connected devices perform the actions requested or provide the demanded information instantly.
Why DiCE SMART is unique and innovative?