DiCEworld, your world. Wherever you are
DiCEworld: from start up to SME in 2 years
DiCEworld was founded in Milan in 2018 as a start-up. The aim of the founders, Alessandro Bertacchi and Matteo Acerbis, was to transform it into the first Italian company specialized in the 100% Made in Italy design, research, development and production of IoT beautiful and functional devices for the smart home.
In just two years of research and development, DiCEworld became a SME with 15 employees, owning a Research & Development office and a production site, both located in Italy.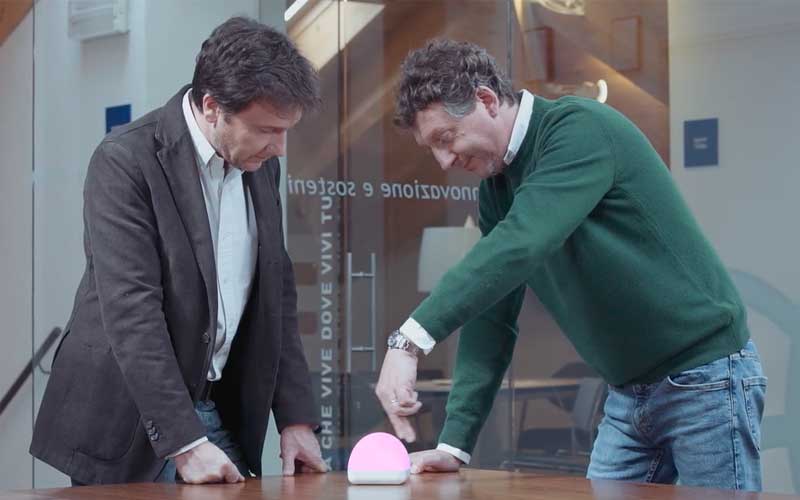 The first international award in Las Vegas 
In January 2020 DiCEworld was among the 50 Italian start-ups selected for the prestigious CES di Las Vegas, where it presented the innovative DiCE SMART technology.
Awarded among the 10 best Human Interface companies of the year for the innovative and unique user experience of its DiCE SMART system, DiCEworld also received the official honors of the Minister for Technological Innovation, who defined the hub as the solution for the 4.0 family.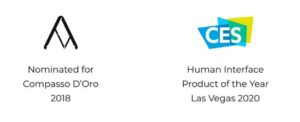 DiCEworld: our world, your world

Innovation
Innovating means breaking down barriers. This is why we created a new IoT language, which is simple and universal. It is made by gestures, lights and colors: speech is now superfluous.

Design
The design, deriving from the peculiar Italian creativity, is our constant inspiring principle. By doing so, we create efficient and functional devices that focus equally on the user experience, the quality of the interaction and the aesthetic beauty.

Sustainability
Our devices are caracterised by high environmental sustainability: they help optimize electricity consumption and improve home habits. In an interconnected world, sustainability also becomes such.
From smart home to smart world
In DiCEworld we define ourselves as dreamers. We are entrepreneurs, architects and engineers and by nature we are deeply realistic but we founded DiCEworld with the desire to change the concept of living and to create the smart home of the future.
Our aim, from the very beginning, was to conceive and produce well designed IoT devices that could make people's lives easier, and improve home management.
As the time passed, we understood that, taking the smart home (safer and more efficient because it is tailored to the habits of those who live there) as a starting point, it is possible to contribute to the creation of a sustainable, aware and responsible smart world. A smart world that will not belong to us only, but to everyone.
DiCEworld, your world. Wherever you are